Effective Communication: De-escalating & Difficult Behaviours
Half-Day Workshop or 2-Hour Workshop
Depending on your time available and desired outcome, this workshop can be presented as either a half day or 2-hour onsite workshop. Material can be tailored to suit your business needs and situation.
In many work environments, we may encounter clients or customers (or other stakeholders) who are anxious, upset or concerned, and communicate these emotions in challenging ways, which can take its toll on you and your colleagues.
This interactive workshop will enable participants to identify early and deescalate situations of unease and confrontation both over the phone and in person.  We will empower you with tools and tips to deal with difficult conversations with confidence and to recover from a difficult encounter more easily.
Learning Objectives:
At the end of this program you will have a better understanding of why the challenging behaviour occurs, how you can identify the early indications and contribute positively to the situation by applying de-escalation techniques, and making sure you keep yourself and others safe.
Benefits to your Organisation:
Team Leaders and Managers better understand how to address staff or customer issues using effective communication.
Grow people-management capability and consistency of approach in your organisation
Managers are more likely to successfully address difficult behaviour or other communication or behaviour issues early.
Improve communication within teams.
Equip teams to improve their performance.
Learning Outcomes:
Team leaders and managers will feel more confident when addressing behaviour issues.
Clarify and better identify tools for managing difficult communications and behaviours
Provide de-escalation tips and techniques staff can follow to address difficult behaviour.
Better understand our own communication style and how we can influence others Assist managers to know the best way to continue to improve the behaviour and communication going forward.
Using effective feedback to drive behaviour changes
Course Content:
Effective Communication: Enhancers and Barriers
You, them and the environment
Understanding the difficult situation and the other person's behaviour and motivation
Types of uneasy situations – What are they really saying? What is happening for them?
Understanding your own reactions to conflict
Responding v reacting
What you are bringing to the situation
The art of a 'pause'
Preventing situations from escalating
High quality conversations
Active listening techniques
Understanding your audience – reassuring, respecting, empathising.
Techniques for dealing positively with challenging behaviour
Defusing situational anger – de-escalation techniques
Exiting the situation – leaving the other person with dignity
Understanding defensive/ difficult behaviour to support effective strategy selection
Keeping safe
Physical and emotional safety
Teamwork & support – debriefing after an event
Conducting yourself professionally after a difficult encounter
Understanding how you can make a positive difference
Train the Trainer
Half Day Workshop or 2 x 2 Hour Sessions
This course is designed to assist participants to develop the skills, knowledge and confidence to teach and train adults in the workplace. It is suited to Managers, Team Leaders or Senior Team members with induction and/or training responsibilities.
Benefits to your Organisation:
Team leaders and managers will better understand how adults learn so that they can achieve success
Boost employee skills, knowledge, productivity and motivation across the organisation
Increase compliance with the organisation's expected performance standards, protocols and procedures, including health and safety requirements
Develop trainer and effective induction capabilities within your own organisation
Course Content:
What is the purpose and role of an onsite trainer? *
Learning styles and practical techniques to support these styles to maximise training outcomes
Understand barriers to learning and how to overcome these
Questioning and assessment techniques to assess learning and plan next steps*
Practical tips and techniques to improve learning and development
Barriers to communication and techniques for improved communication
Guiding principles of providing constructive feedback
Impact of a positive learning and working environment
*These can be customised to link to include organisation's systems, procedures and expectations.
A Great Place to Work
This workshop looks at how to achieve your desired culture, what behaviours are unacceptable and how to address these. Designed for teams within a workplace, including staff, team leaders and managers. We encourage management to attend with their team, to get the maximum potential from this workshop.
Benefits to your Organisation and Learning Outcomes:
Identify the ideal workplace culture and be able to describe what would or wouldn't happen in that culture. Also consider how this aligns with the organisation's strategy, vision and values.
Clarify what behaviours are unacceptable and provide communication tips and the processes staff can follow to address these.
Ensure everyone understands the legislation that relates to unacceptable behaviour.
Consider what makes a high-performing team and how to increase happiness in the workplace.
Assist managers to know the best way to continue to improve the culture going forward.
Course Content:
Identify the desired culture, what that looks like and how it aligns with the organisation's goals/success
Identify legislation relevant to unacceptable behaviour
Discuss and define Bullying, Harassment & Discrimination
What is not bullying (but may still be unacceptable)
How to prevent unacceptable behaviour
What not to do
Investigation process
False allegations of unacceptable behaviour
Examine any identified barriers to achieving the desired culture for your team
What factors contribute to a high performing team
Tips for a happy workplace
Discuss follow-up homework: setting 2 – 3 actions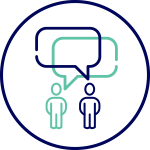 Negotiating & Influencing
In this interactive workshop can be presented as a webinar or as on-site workshop. Participants will learn about key principles and the psychology of successful negotiation and persuasion, including tips to help refine their personal negotiating style and improve their success in tricky situations, including getting the best out of difficult conversations.  It therefore focuses heavily on communication and relationship management and is from an HR/people-management perspective.
Our focus will be on both information-sharing and interactive exercises (no role plays) to increase your learning experience and confidence.
Who is this workshop for?
This workshop is designed for Business Owners, Team Leaders and Managers or anybody who is in a position where they are at times needing to negotiate, persuade or influence others.
On successful completion of this workshop, participants will be able to:
Identify cues to read situations
More effectively influence or persuade others
Feel more confident in situations where they need to negotiate with and influence employees
Understand the psychology of influencing and negotiating
COURSE CONTENT
The Psychology of Influencing
Separating People & Issues
Personal bias in negotiation
Dealing with irrational people
Improving communication by asking
Best case alternative & worst-case alternative
Competition into co-operation
Generate options
When to walk away
Successful People Management
A series of 6 x 2 hour workshops that will assist team leaders and managers to become more confident and competent in handling everyday problems that arise when managing staff performance.
Session Outline
6 x 2 hour sessions either at your venue or Chapman Employment Relations, 56 Waimea Road, Nelson
Session 1: Effective Communication 1
Session 2: Effective Communication 2
Session 3: Managing Difficult People
Session 4: Everyday Performance Management
Session 5: The Disciplinary Process
Session 6: Bullying in the Workplace
Effective Communication
Effective communication is a critical skill for successful supervisors and managers. Unfortunately we often carry through our communication styles from earlier in life, and find it difficult to adjust how we communicate in differing circumstances.
These 2 x 2 hour workshops will enable participants to recognise their own communication and behavioural styles, the challenges different styles present, and adopt new communication tools for alternative circumstances.
Session 1
Why don't they understand what I'm saying?
Barriers to effective communication
Understanding yourself and others – Identifying personal communication styles
Verbal and non-verbal components of communication
Assertive, aggressive and passive communication
Three point communication
Responding Not Reacting: Keeping the Emotion Out
Giving and Getting Feedback
Session 2
Review
Handling criticism and other forms of manipulation
Distinguishing between "reasons" and "excuses"
Handling "difficult" people and situations without being aggressive
Negotiation, Persuasion, and Influence
Managing Difficult People
What can be done with the person that just doesn't fit in, or worse, their behaviour is confrontational and uncompromising? Personality clashes and ongoing disharmony is costly for business, and the employee needs to be either effectively managed in the business or managed out. We explore the traits of various personality types and ways to manage them.
Personality traits versus behaviour
Influencing behaviour
Understanding the motivation
Identifying challenging personalities
Strategies for managing challenging personalities
Everyday Performance Management
This session covers tips on how to effectively utilise informal performance management processes, both when performance isn't at the standard required and to assist your staff who regularly perform well to continually look at how they can keep improving their performance. This session includes tips on developing and coaching others on the job.
Developing People
Positive Reinforcement
Giving and receiving feedback
Coaching styles
Continuous Improvement
Accountability
Performance versus behaviour
The performance improvement plan
The Disciplinary Process
Understanding the process is only part of conducting a successful disciplinary investigation. How can you tell if someone is lying to you, what can you do if an employee refuses to provide a witness statement, can you tape a meeting, can you secretly monitor employees? All these questions and many more are answered in this session.
Performance versus behaviour
Misconduct versus serious misconduct
The three step warning process
Company Rules
Terms of the Employment Agreement
Allegations
Representation
The investigation
Reaching an outcome
Bullying in the Workplace
Bullying in the workplace is a difficult behavioural issue to deal with. This section of the workshop is designed to raise awareness of what bullying is (and isn't), strategies to prevent it, and what to do if they are advised of bullying in the workplace.
This section of the workshop will enable participants to adopt an effective initial approach to concerns about bullying, ensuring the steps they take meet the employer's legal obligations. Participants will specifically learn:
What is bullying?
Bullying versus strong management
What does the law say?
The effects of bullying
Prevention
Investigating claims
Taking action
Team Based Workshop: Improve Culture & Performance
Does your team primarily achieve their work targets, but not operate as a cohesive team, or their communication and teamwork needs to improve?  Are some of these issues beginning to cause stress?
This interactive and enlightening workshop includes a personality profiling exercise and workshop to help team members discover more about their own and others natural work style and how they might be adapting that style at work. The workshop offers an opportunity at the start for the Leader/Manager/Owner to talk to their team about the current areas of focus. The workshop would also include an exercise to identify the desired company/team culture and how that can be achieved.
A pre and post workshop briefing with the Leader/Manager is also part of the program in order to develop a recommended approach to achieve your desired changes.  This includes personality profiling, a team-based workshop and follow-up meetings.
Company Strategy:
We begin the half-day workshop by having the Leader/Manager outline the team's current areas of focus or goals, values, vision and mission (and answer any questions), to ensure these are well understood, there is a shared understanding and to set the scene for the workshop.
Culture – A Great Place to Work
The next step is to identify the desired culture, relevant factors to achieving it, and agree a few easy actions to work on after the workshop.
Identify the desired culture, what that looks like and how it aligns with the team's goals/success
Briefly identify legislation relevant to unacceptable behaviours and discuss these
How to prevent unacceptable behaviour and what not to do
Examine any identified barriers to achieving the desired culture for your team
What factors contribute to a high performing team
Tips for a happy workplace
Discuss follow-up homework: setting 2 – 3 actions
Personality Profiles:
Profile reports – at this stage we discuss the tool used. Extended DISC (further information about this tool is detailed here.) how it assesses styles, and discuss the various styles. Individual reports are distributed to the participants and allow them time to review their report and see their style.
Each team member would be asked to share a few of the details from their report with the wider team (if they are comfortable to do so).
After individuals feed back to the group some information about themselves, we review the combined team results, and what that identifies, including any gaps, followed by a discussion about how that might align with the company's strategy/team goals.
The workshop is designed to be participative and includes practical exercises and discussion.
Learning Outcomes:
Understand what your strategy and vision is and its role in the workplace
Understand the role of people and culture in the team's success
Identify the team's understanding of the current goals
Understand their own working style and the style of others in the team
Have some areas of focus for the future to assist in achieving the desired culture
One on One Coaching
External coaching can be an invaluable tool for the development of leadership in a business. It can have a positive impact on individuals in many ways and can create a fundamental shift in their approach to their work.
Our One on One coaching will help individuals to:
Become more self-confident and self-reliant
Contribute more effectively to the team and the company
Take greater responsibility and accountability for actions and commitments
Work more collaboratively and productively with others
Communicate more effectively
Gain more job satisfaction
We recommend monthly 1 – 2-hour coaching sessions, initially for 3 months, followed by a review that includes their manager, where it can be determined if ongoing or a set number of additional sessions may be of benefit.
Coaching plan outline:
First meeting – discuss challenges and agree on goals and coaching plan (with input from manager)
Establish a coaching style that the individual will relate to
Draft a coaching plan with the framework for the individual to agree
Each meeting will include reviewing actions from the last meeting and any additional matters
Talk through approaches/actions and how to apply them. Discuss current and upcoming actual work scenarios.
Allow time for questions for clarification
Recognise wins or successes throughout the process
All items discussed are noted in the coaching plan document and copies are supplied.
As noted above. to ensure that the learnings from these One on One sessions are fully utilised by the Manager on the job, we propose a debriefing discussion with you after each three-month interval (or sooner, if any particular concerns are identified), so that the specific learnings can be reinforced by you in the workplace. For transparency, it is recommended that the managers involved in the coaching be advised by you that we will debrief you about their participation and development during the coaching, and about the expected learning outcomes.
Looking for something more tailored for your business needs?
We can help.
Contact us to discuss your requirements…